Dreaming of a white kitchen? Part 2
Have you got a white kitchen and looking for ways to give it more character? The kitchen often is one of the most important rooms in our homes. In this second part of the post I give you some more tips on how to make your kitchen beautiful.
Tip 6 – Pick a light that gets noticed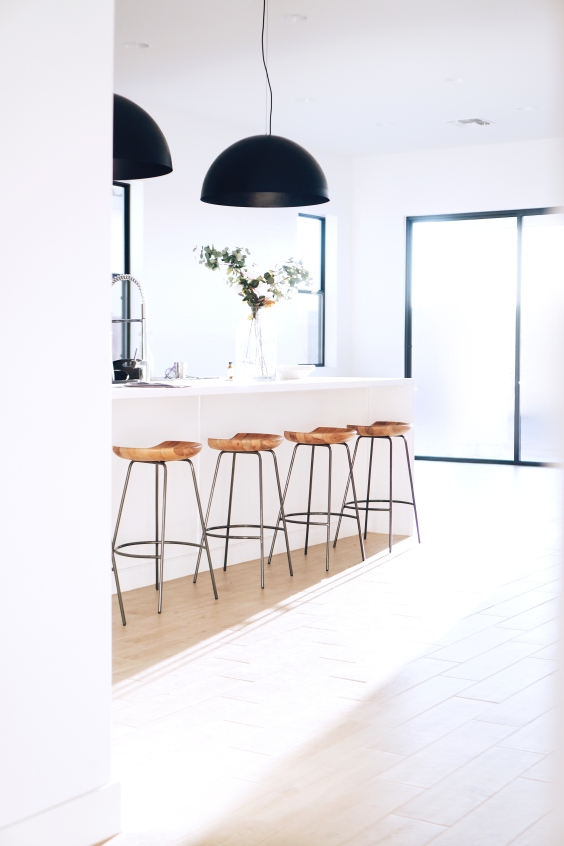 Good lighting is not only important for the working functionality of your space; but it can be the jewel of your kitchen. Consider your kitchen as a black evening dress and your ceiling light as a precious necklace that enhances it even more. The lighting can create a wow effect. Depending on the style you prefer, you might pick for example black lighting for a contrast. Alternatively, a copper or golden light might be the right fit for you. It reflects more light in your space and is trendy. Maybe you will fall in love with some colourful light, that will set a tone for your kitchen colour scheme.
Tip 7 – update your kitchen handles, sinks and mixers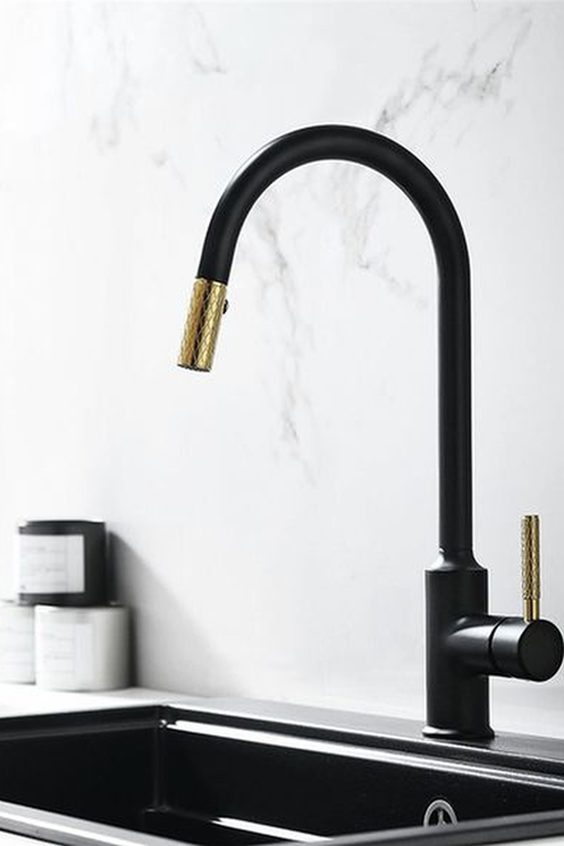 Maybe you really want to keep your kitchen mainly white. Why not introduce a black accent element for a trendy update of your kitchen? Changing the door and drawer handles is easy. Plus, if you get tired of it you can easily go back to the originals. To bring your black and white colour scheme further, why not consider installing a trendy black mixer or sink?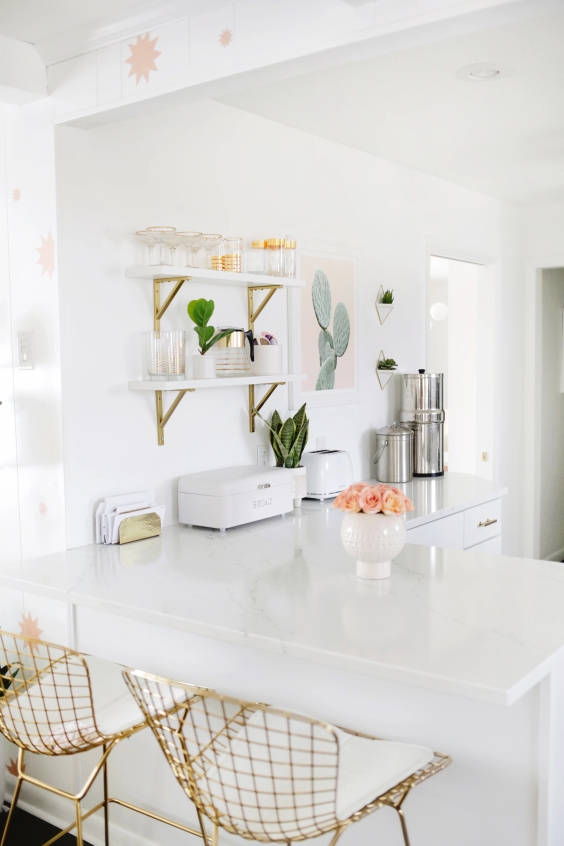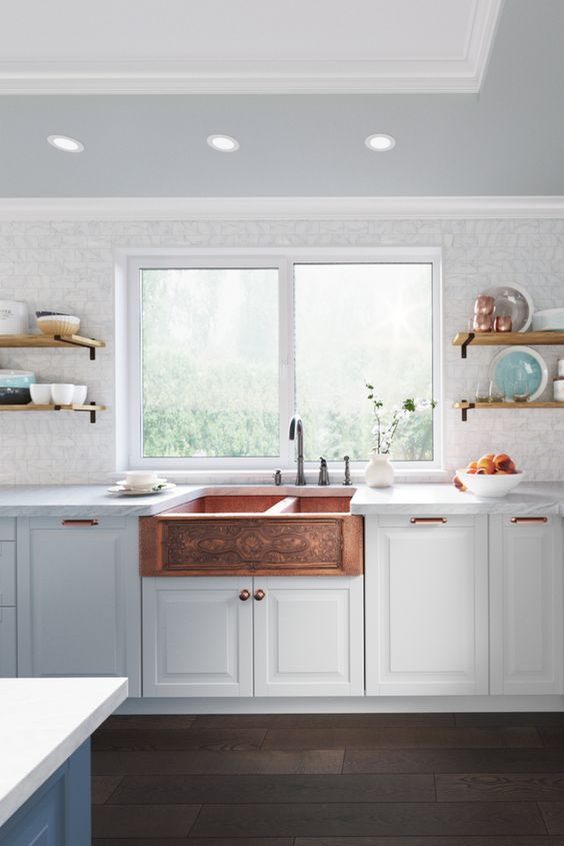 Adding a metal element, such as gold or copper will bring a sparkle to your white kitchen that one cannot overlook. A gold mixer paired with gold handles on your kitchen doors will add a wow factor. Personally, I love copper, especially when used in period houses. Combined with old-fashioned copper cookware it creates a warm country feel to the kitchen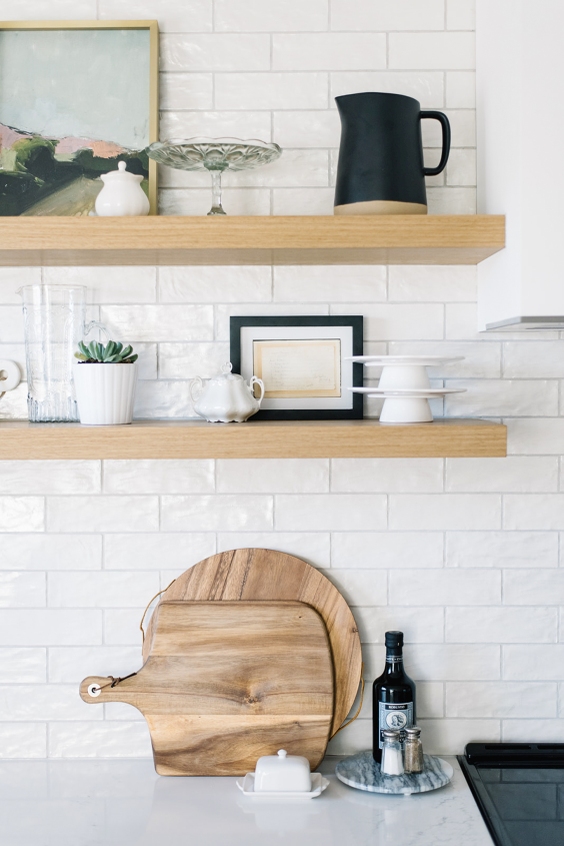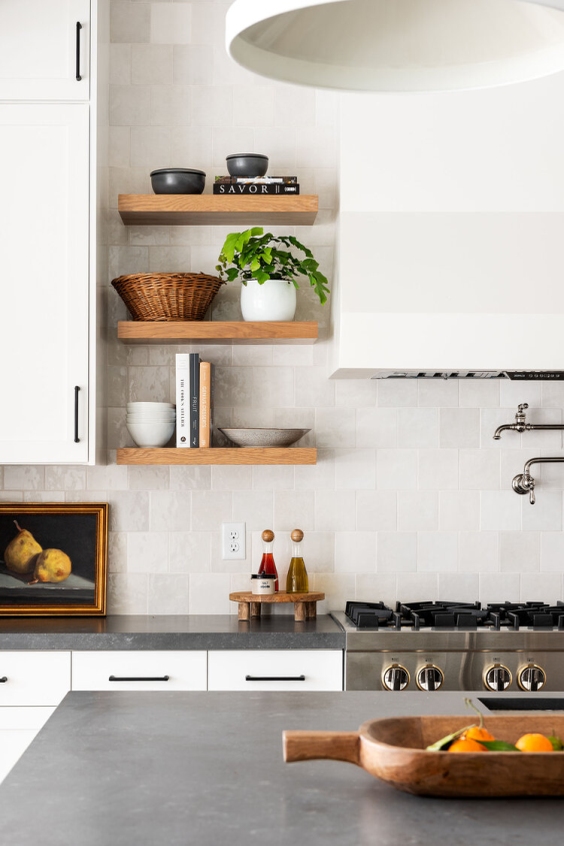 If your space allows it, consider hanging a picture. Personally, I am a big fan of it, because you will create some kind of story. You will definitely add character there. Perhaps you have a very narrow kitchen space. Why not make a complete gallery wall there? All your visitors will look at your art instead of your cooking.
Tip 9 – Use fabrics to add texture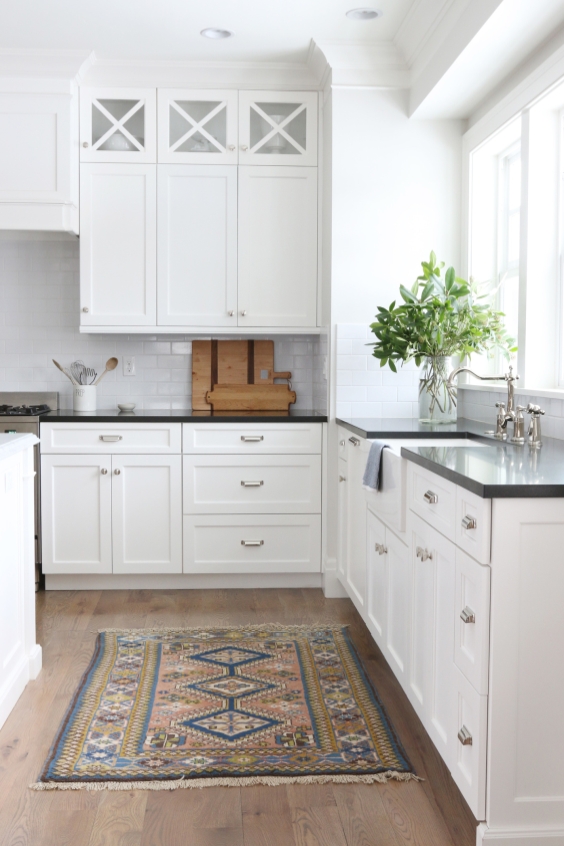 Any space is warmed by adding textiles, such as adding a colourful rug in your kitchen. As it might be in high traffic area, I would suggest to pick one that can be easily cleaned and ideally machine washable. Remember to make your rug anti-slip to avoid any  accident while cooking. Other ways to add texture to your kitchen include installing blinds or curtains. A white country kitchen will look cosier by using a lovely fabric curtain in place of a cabinet door.
Tip 10 – Add decor almost for free!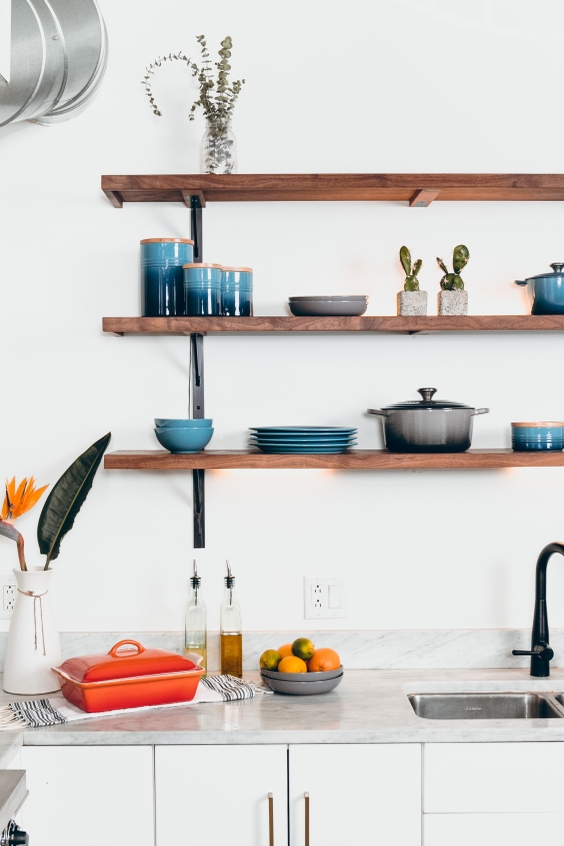 Can you create a corner for staging nice items you use on regular basis? Maybe your favourite mugs? Or you have a lovely marble cutting board you wish to feature? A bowl of fruit or herbs you use all the time? Again, be careful how much you put on your counter space. Funcion first, then design, always. Whatever you have and love, try to make your own story with it in your kitchen space.
So these are some ideas for how you can add more charm to your white kitchen. As always, beauty is in the detail.  
If you haven't done so already, you can find more on this subject in my other article below, and for more inspiration, feel free to have a look at my Pinterest board fabout white kitchens.
Read 'How to Add Charm and Character to Your White Kitchen – Part 1
Have a look at these related articles . . .