Dreaming of a white kitchen?
Do you dream of white kitchen? Or maybe you have inherited one where you live now. It is a timeless option, never out of fashion. That is maybe why many people pick white as a safe option if they consider selling their property in the future. The good news is that no matter the design style of your kitchen, it can look great with some thought. Here are five ideas on how you can make it special, whether it be cheap or expensive.
Tip 1 – My favourite – why not paint?
Just a pot of paint can transform your room from boring to fabulous. Think of the amount of light you get in your kitchen. One of the most important questions to answer is: What mood do you want to create? Maybe you are brave enough to go for a dark wall paint to achieve more stricking moody look. Or what if you painted your ceiling for bigger visual impact?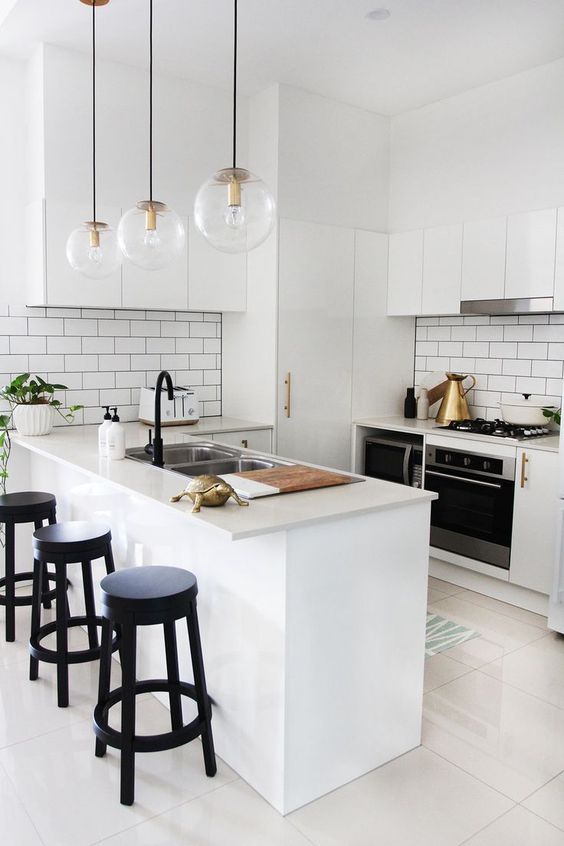 If the kitchen belongs to you , how about painting part of the kitchen unit in some colour you like? Alternatively, to add a little splash of colour to the space, painting  your bar stools would  be a safe option.
Tip 2 – Use an interesting material on your counter top or back splash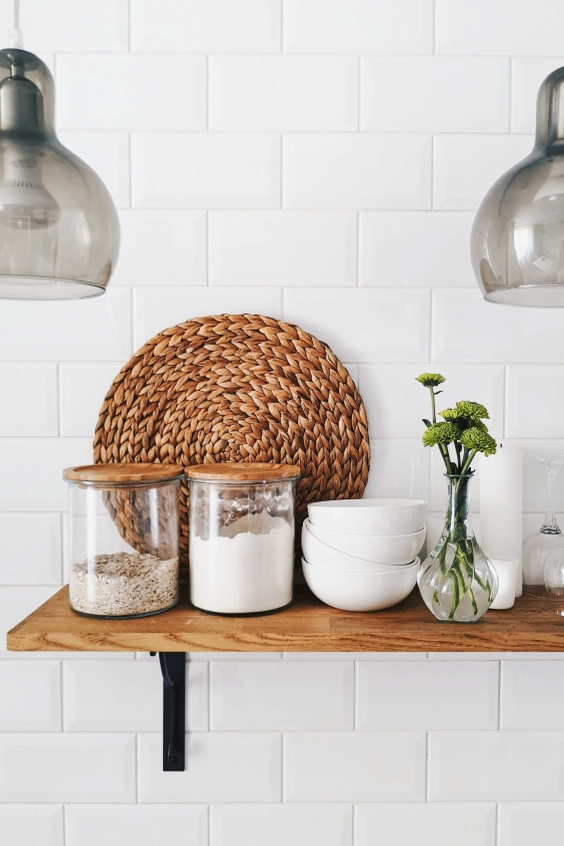 One way to warm up your space is by adding any type of wood. If you don't have wood floors, you can use it  for the countertop or some shelves. If you rent and white kitchen seems to sterile or boring to you, you can swap some of the kitchen doors for wood ones for a warmer look. When you move to a new place of yours, all you have to do is to remount originals.
Maybe you prefer a luxurious looking kitchen. In this case try introducing a marble element to your space. Even if you don't have space for an island, you could always consider a marble backsplash. If you feel that marble looks cold, you could still use it on kitchen accessories.
Another option is to install a glass backsplash, which goes well with modern white kitchens. Beware! You will be cleaning it all the time! Among other materials to consider are bricks, which will give your space a lot of character.
Tip 3 – Install some stunning tiles
One of the obvious choices is to install some attractive tiling, that draws attention. Maybe it is not possible to change your tiles. You could consider painting the existing tiles. However before you try anything yourself, read the reviews, because it is often not so straightforward as it looks.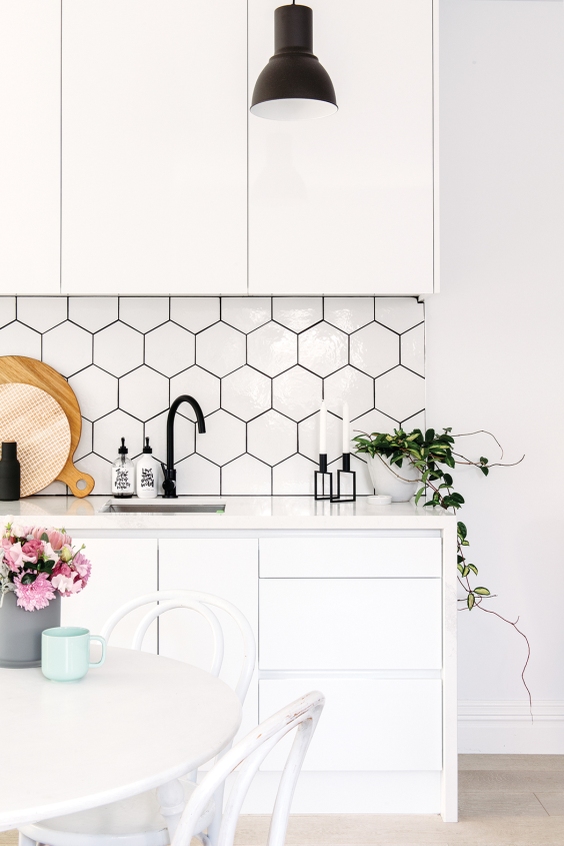 Another way to brighten your existing tiling is to change a grout colour. For a current trendy look you could choose a golden grout, for a timeless striking look opt for black or dark grey colour grout. Apart from regrouting there are also special paints available. If you want to feel happy in your kitchen, or you just love anything pink like my daughter 🙂  maybe you will be brave enough to pick a striking colourful grout.
Tip 4 – The power of wallpaper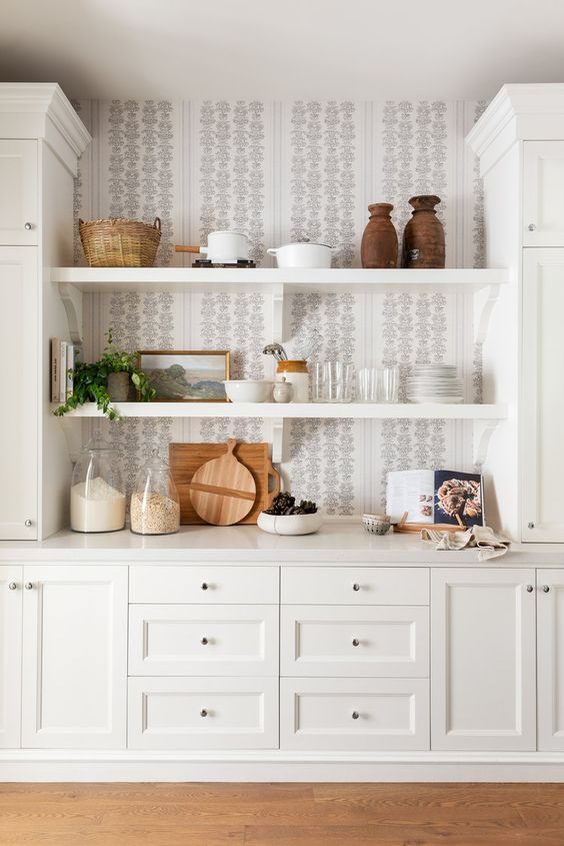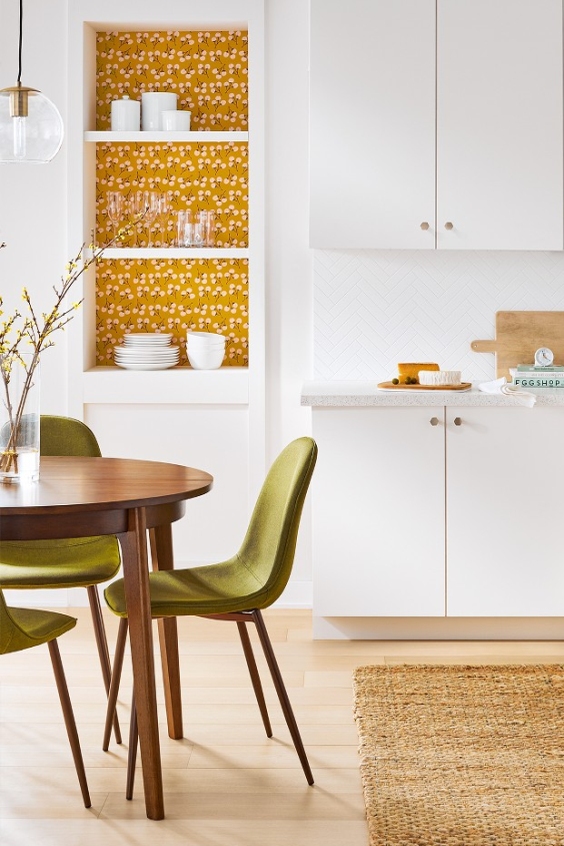 I will cover pros and cons of wallpaper in another post, as certainly I would not consider putting it everywhere. Imagine, you wake up and as you are still sleepy you try to grab your favourite mug for your 1st dose of caffeine. And in this moment as you are reaching for your mug inside of the kitchen cupboard you are greeted by a beautiful wallpaper that makes you smile. The day is already better J  Who doesn't fancy that? Alternatively you can make a corner of your kitchen attractive by putting your feature wallpaper in a display area. For certain it will enhance your open shelves.
Tip 5 – Install colour appliances or hob for a statement look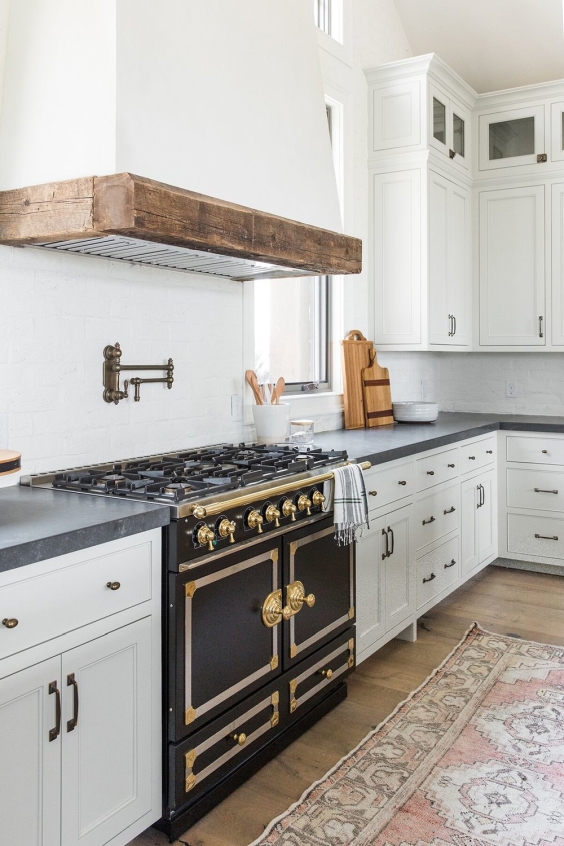 One thing that makes your kitchen look more trendy is to use exclusive looking appliances. For a more classic look a chrome finish will work well. To light up your kitchen you might pick an accent colour of your choice.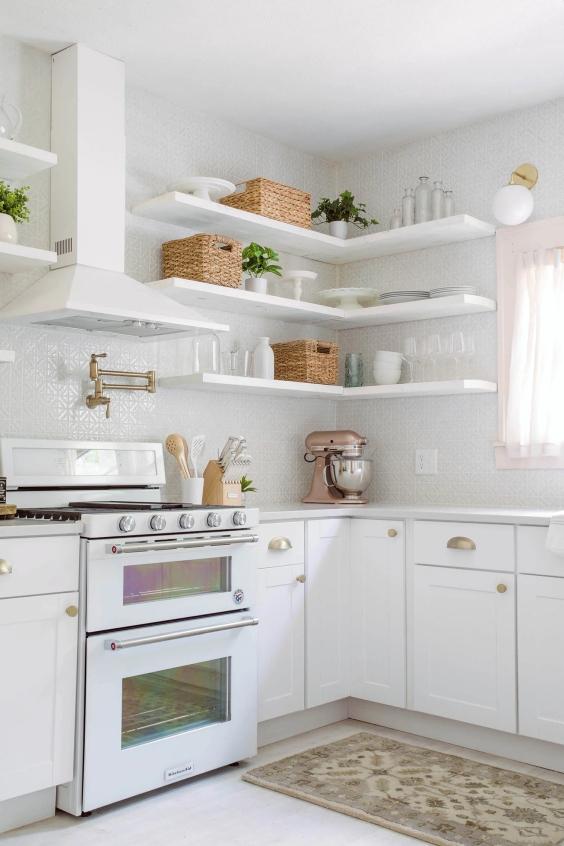 What if you rent? You can make your white kitchen look trendy by adding some attractive small appliences. If your kitchen is small, make sure you think of practicality before design. It would be no good to you if you had a stunning mixer; but hardly any space left to cook. My favourite company for small appliences is SMEG, I just found their products adorable, no matter into which style of kitchen you put them in.
Have a look at these related articles . . .